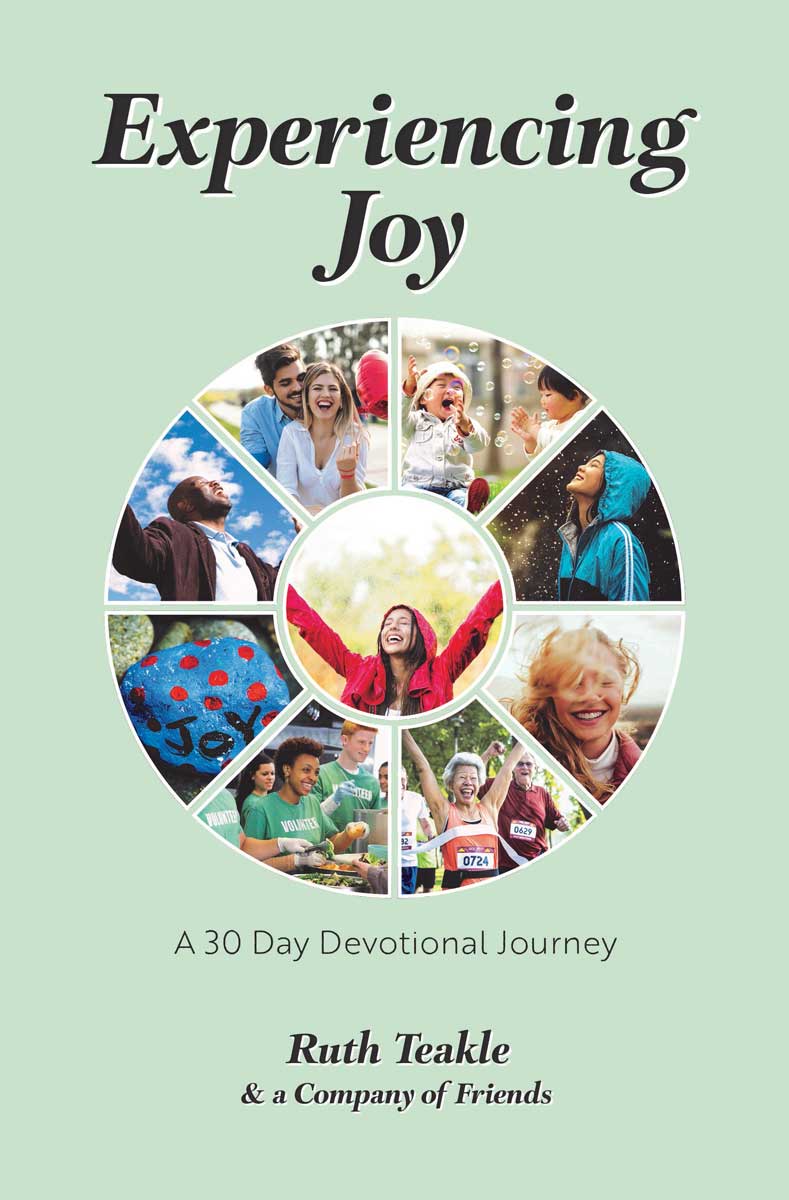 Experiencing Joy is another delightful, powerful, and inspirational devotional that follows Ruth's previous devotionals-Pursuing Patience, Pursuing Peace, Choosing Love, Choosing Kindness, and Cultivating Faith. Each relatable five-minute lesson is born out of a decision to choose authentic joy, no matter the circumstance. Ruth's contributors share their joy struggles and victories as well, always beginning with a life-giving scripture and ending with a prayer that will connect you to your Heavenly Father, the source of true joy. Suitable for personal, small group, and corporate use.
Vanessa Brobbel, a veteran homeschool mom and artist from the Niagara region, works alongside her husband, Floyd, for a mission called The Voice of the Martyrs. For the past twenty-one years, she has spoken at conferences and women's retreats across Canada. This ministry purposes to create an awareness of the persecution levelled against Christians around the world while actively providing tools to mentor the body of Christ both domestically and internationally to grow through adversity. Friends describe Vanessa as a beautiful soul with a natural teaching gift. She loves her family dearly and the work that she does for VOM. Warm, caring, passionate, artistic, and full of joy are just a few words to describe this amazing woman!
Melissa Bone is an ordained minister, author, and speaker. She lives in Grimsby, Ontario with her husband, Terry, where they served as the Senior Pastoral Couple at Lakemount Worship Centre for over ten years. Melissa has written and co-written several books, including "The Family Blessing Guidebook" and a devotional book for women based on the women of Luke and Acts, entitled "Luke's Ladies."
With a lifelong commitment to mentoring the next generation, Melissa inspires and champions women to see them raised up and released into their God-given destinies. She is trained in birth coaching (labour doula) and chaplaincy and works in hospitals, assisting both practically and pastorally. Melissa enjoys mentoring her three adult children and their families, along with her seven grandchildren.
Born as number five in a family of seven children, Betty Chisholm has always been curious and adventurous. As a pre-schooler, an early fascination with fire left her tottering between life and death. Having journeyed through a lifetime of medical interventions, shame, abortion, and a broken marriage, Betty stands a trophy of God's grace, healing, and redemptive plan. She is an ordained minister with OBFF (Ministers Network Canada) and has served as founder and director of Prison Revival Ministries for thirty-five years. Her ministry has included Music with a Mission, a local Aglow presidency, international missions, speaking, and media interviews. Betty has written her story in book form entitled "Out of the Flame."
A mother, grandmother, and retired career hairdresser, Betty's prayer is that her transparency in relating her journey will bring hope and freedom to others. Betty and her husband, John, reside in St. Catharines, Ontario.
Chris Collins grew up in Hamilton, Ontario and attended Mohawk College and later Tyndale University. From a very young age, Chris developed a passion for music. He has been a vocalist, choir member, trumpet player, and has marched with the drum and bugle corps. He served as full-time director for the corps for four years, taught vocal music at a local church school, and now serves his local church in the areas of worship, prayer, and ministry eldership. Chris has a heart for people. Having found his way back to the Lord following a deep depression, he understands the needed role of the body of Christ to walk in compassion and support.
Chris often finds unique ways to bring people together, providing both friendship and small group leadership. Chris married his beautiful wife, Nancy, in 2000, and they reside in Beamsville, Ontario. Apparently, he is mildly interested in football, and in his spare time, you're most likely to find him on the local golf course or off on a long country drive with his wife.
Dr. John Courtney, a graduate of EPBC, ordained in 1972, received his BRS degree from Mennonite Brethren Bible College (CMU) in 1980. John continued to pursue studies at Winnipeg Theological Seminary (MMin) and Providence (MA), receiving a Doctor of Divinity, honoris causa from Providence College and Theological Seminary in 2011. He has recently retired from a forty-seven-year run at his lifelong passion as Executive Director of Youth for Christ, Winnipeg, serving over 11,000 youth annually.
While John has been the recipient of numerous prestigious awards, including the Queen's Diamond Jubilee medal, he has remained humble, engaged, and mission-focused with a heart to see youth become life-long Christ-followers. He presently mentors leaders globally in his new international YFC "retirement" position. A two-time cancer survivor with an amazing testimony of God's healing grace, John enjoys a vibrant and active family life with his fantastic wife of fifty years, Susan, their three sons, spouses, and eight grandkids.
Christine Dobrocky calls Niagara, Ontario home, where she was born and raised in a family with two older brothers. Her Roman Catholic upbringing contributed to her hunger for God in her adult life. Her lived experience battling an eating disorder, being a former fitness competitor, being a police officer, a resulting PTSD diagnosis, and a suicide attempt were driving forces that led her on a path to healing in her late twenties.
At thirty-six, she decided to surrender her life to God and has never looked back. Christine enjoys a holistic lifestyle that encompasses regular exercise, time in nature, and meditation. Some of her passions include reading, writing, riding a motorcycle, serving her church community, and helping others better understand the positive impacts that living a Christian life can have.
Kayleigh Duggan was born in the Niagara Region, Ontario. When she started high school, she moved with her parents overseas as a missionary kid for four years, spending two years in Kenya and two years in Tanzania. While there, Kayleigh served with the worship team and the children's ministry. Upon return, she started a fantastic internship at her local church, Lakemount Worship Centre.
During the second year of the program, she added to her studies a course load from Portland Bible College, Oregon, that would take her on a journey toward her Bachelor of Theology. Following what could have been a life-altering illness, she is now pressing toward her goal of graduating from these studies and stepping in to serve the body of Christ in a pastoral role. She uses her spare time to flip burgers or take cash at Wendy's, curl up with a good book, tackle a challenging puzzle, or hang out with family and friends.
Ryan Harmon serves on the pastoral team at Lakemount Worship Centre in Grimsby, Ontario. He's involved with the young adult's ministry (LYA), Alpha Course, the worship team, and Sunday serve teams. Ryan is passionate about seeing people, young and old, encounter the life-changing presence of Jesus Christ through the preaching of the Word. He loves to read and travel, is crazy about sports, and is just about always down to do something adventurous.
Ryan and his beautiful wife, Jenna, are living their best lives in the Niagara region, where they're raising two beautiful boys, Moses and Shepard.
During Ed and Lori McKay's thirty-three years of marriage, they've been passionate about serving both in the local church and on mission. In 2002, they began ministry with Next Level International in shortterm missions, church planting, and leadership training programs to Eastern Europe. They also started fostering children and eventually adopted their son, Dee, now twenty-five and married. They have pastored in PAOC churches in Echo Bay and Smithville, Ontario, and have served in missions to Peru and Barbados.
Lori has been a very successful career bookkeeper/administrator in various mission agencies and within her community. Ed has assisted the Salvation Army in their care ministry to those in need. Whether in itinerant ministry, preaching, teaching, or leading worship (supported by his wife), Ed shares his passion for both the Word and people. Lori and Ed strongly value relationships and love investing in small groups and prayer gatherings to build the Kingdom. Ed and Lori live in Simcoe, Ontario.
Chidi Opara grew up as a pastor's kid in Nigeria, serving alongside his father in almost every church ministry area as needed. He came to Canada in 2004, where his educational pursuits included Niagara College, a degree from McMaster University, and an MBA from Brock University in Data Analytics. Following eleven years as an IT Client Analyst for the city of St. Catharines, he currently serves Niagara Health as a Senior Decision Support Performance Advisor. Chidi's ministry has included First Baptist Church, Welland and Royal House, St. Catharines in areas of worship, media, and young adults.
He presently serves his home church, Lakemount Worship Centre, in worship, media, and prayer. His passion for God and his welcoming smile are infectious! Chidi married his wife, Ola, in 2010, and they are blessed with three beautiful children: Joshuana, David, and Christabel. As a family they love workouts, sports, game and movie nights, and playground picnics. Chidi also enjoys playing the guitar and connecting people with the power of scripture. He thrives in organizing events, building, IT projects, and gardening.
With humility of heart and obedience to the leading of the Spirit, Laura Woodley Osman loves to serve the body of Christ. She has been a worship leader and singer/songwriter for many years, spreading God's love internationally. Her most recent CD, Four Winds, is a collection of songs to encourage and prepare hearts for Jesus' return.
Laura has four other records: Home, In Love, Invisible Realms, and Story of All Stories. She has also authored a children's book and developed a biblically-based fragrance. Laura has the heart of a psalmist and loves being her Heavenly Daddy's girl. Since 2006, Laura has walked with her husband, Daniel, in both marriage and ministry. They adore their kids: Noah (2011), Nathan (2012), and Grace (2014). Together they share a love for God's Word and His people. More than anything, they love seeing God's kingdom released wherever they go!
Lori Webster's home has always been Ontario, with the exception of the adventure featured in this devotional. Having spent her most formative years in Sudbury and on Manitoulin Island, she especially feels at home in a landscape of birch trees and rocks. She has worked in various counselling positions and, most recently, has been assisting newcomers to Canada to settle successfully. Lori enjoys serving in prayer, Rapha healing ministry, and Trauma Healing Groups in her much-loved home church. She has served on several life-changing short-term mission trips to Guatemala, St. Lucia, Slovakia, and Turkey.
While being an introvert who will never get through her book list, she also enjoys laughter and fun shared with family and friends. Lori has a sneaking suspicion that God is not finished with His surprise adventures in His good plan for her life!
Joy Slaughter, better known as Madame Jwa by her Haitian friends, spent eighteen wonderful years serving and raising up leaders in the organization "Love Haiti," which she co-founded. The vision of the ministry, continued now by the locals, is to "Rescue, Restore, and Edify" by offering humanitarian aid and sharing a message of revival and transformation. In 2012 she married her husband, well-known musician Alvin Slaughter, and together they have traversed North America bringing the joy of Jesus.
As a Certified Clinic Hemodialysis Technician, she presently works with end-stage renal patients full-time, giving them dialysis treatments, while also training others at the treatment centre. Joy resides in Buffalo, New York, where her heart's passion and compassion find expression in ministering hope, healing, and inspiration within her community. Friends describe Joy as a lover of Jesus, full of laughter and encouragement, who exemplifies what it means to live life to the full. Facebook
" Cultivating Faith is beautifully written, heart-warming, and powerful! Each devotional left me hungry for the next! "
" Focuses, challenging, and inspirational! These devotions will penetrate your heart and soul and strengthen your personal faith journey. "
" The power of testimony on full display! A skilled author telling vivid stories. Expect to be awed at the creative, supernatural ways of God! "
" If you're looking for something both relevant and practical in dealing with the everyday stuff of life we all face, I highly recommend Cultivating Faith. "